Many homeowners want to enjoy their sparkling swimming pool all year-round. After all, they've made a significant investment in this structure, and they want to maximize its benefits. As such, they opt to install glass pool enclosures.
A retractable pool enclosure offers the perfect spot for relaxation, entertainment, and family bonding, regardless of the weather conditions. Of course, if you want to keep the fun going all year long, you must maintain a healthy and tidy environment around the swimming pool.  Cleaning pool enclosures are a must, especially when you want to keep bugs and algae from infesting the area.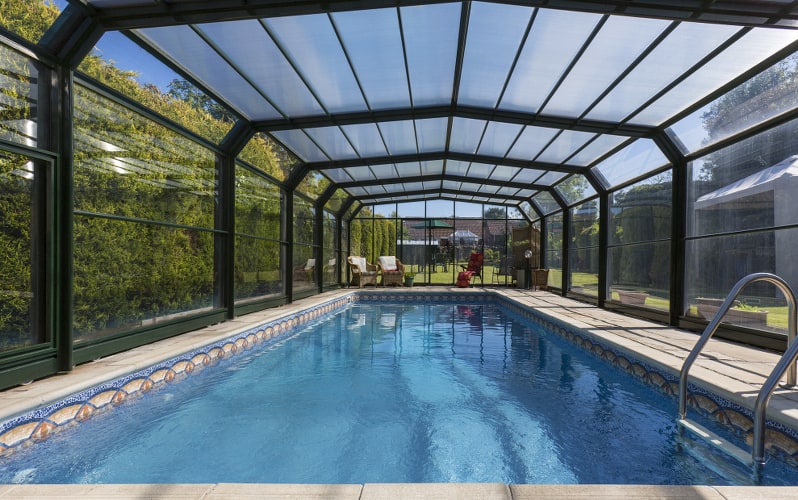 The process of caring for an acrylic or glass enclosure is straightforward. However, there are best practices that will help you clean the structure more efficiently, allowing you to prolong its lifespan. Here are some of our cleaning tips:
Keeping it Simple with Dish Soap and Warm Water
If you think that the dirt or algae build-up is not severe, you can choose the gentler method for cleaning pool enclosures. Create a mixture of household dish soap and warm water, then take a soft cloth for wiping the grime off the panels and frame. Keep in mind that this option may be labour-intensive. However, this method will allow you to get rid most of the dirt and grime off the enclosure. Carefully wipe all the surfaces, ensuring that both sides of the panels are adequately cleaned. After wiping the panels and frames, take a garden hose and rinse off the soap.
Faster and More Convenient Cleaning with a Pressure Washer
When you opt to use a pressure washer for cleaning pool enclosures, you will be able to spray away the grime and dirt build-up with ease. That said, make sure that you start the process, using the lowest pressure setting. Moreover, be careful when you are increasing the pressure of the equipment. As we've mentioned, extreme power may permanently damage the panelling.
Also, avoid spraying on damaged areas. Do note that it is possible that the pressure washer will not be able to get rid of some algae spots. If this is the case, we recommend trying the next solution.